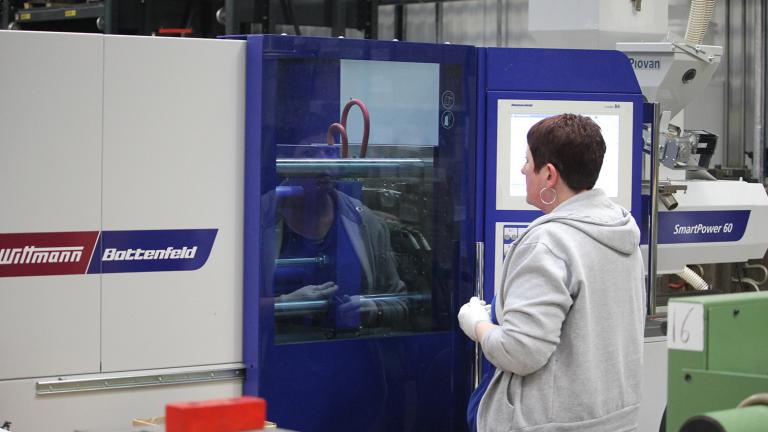 24th November 2020
Linear Plastics meets the challenge for ventilator part supply
The company's manufacturing requirement was at the heart of the UK Government's procurement strategy against Covid 19 and Linear's Wittmann Battenfeld SmartPower 60 injection moulding machine was prepared and ready for action. Early in the pandemic the Wales Centre for Advanced Batch Manufacture — known as CBM — contacted Linear Plastics with an urgent request for tooling and production.
The component CBM needed is a critical ancillary part of a ventilator machine — thousands of which are being manufactured for the Covid crisis. Our friends at CBM chose us for our ability to handle the project from first designs to packaged product delivered direct to the healthcare frontline.

Andrew Harrison

— LP General Manager
Linear Plastics took just 21 working days (four weeks) to turn the job around — from first enquiry to initial designs to confirmed CAD drawings, then fully hardened tooling, moulding trials and full production and shipping. Daniel Williams, Joint Managing Director of Wittmann Battenfeld (WIBA) UK says that 'once again we are proud to be associated with our customer Linear Plastics and also delighted that our SmartPower injection moulding technology helped deliver such a healthcare asset for the nation.'
Linear is now using the SmartPower 60 machine to produce some 6,000 parts daily in medical grade polypropylene for the project. The company expects to taper off ongoing production as the total inventory of component parts nears six figures.
Andrew Harrison adds that 'needless to say we are immensely proud of our company's ability here to handle such projects under pressure and to deliver on time and in full for our customers.
It's not every day that you're involved in something that being scrutinised as part of daily Government Cabinet businesses. I believe that we more than acquitted ourselves and, hopefully, this will be the start of a number of projects with Swansea-based CBM.
Lloyd Stoker was the Linear Plastics contact at CBM. He says that 'this project had a number of stages, and at every stage our expectations were exceeded by the Linear Plastics response. Together our businesses stepped up to meet this emergency need.' CBM is established in Swansea by the University of Wales Trinity St David. It is an industry-focused advanced research, new product development and batch manufacturing facility. Its unique offering is delivered by an experienced team, using state-of-the-art technology platforms that included 3D printing, scanning and low volume manufacture. Specialties include interdisciplinary research and advanced engineering to drive innovation across a number of sectors.
Linear Plastics continues to develop its contract injection moulding business in spite of the Covid 19 storm. Thanks to continuing market demand in a number of sectors Linear has now expanded its South Wales workforce by over ten percent over the past two months and has also extensively invested in Wittmann Battenfeld moulding technology over the past two years.
Wittmann Battenfeld's core range of MicroPower, EcoPower and SmartPower injection moulding machines (15-550t) are all available in cleanroom ready medical versions: All three are also available in multi component format. Minimum emissions are standard and all machines can be upgraded for cleanroom purposes to the EN-ISO 14644 medical standard.