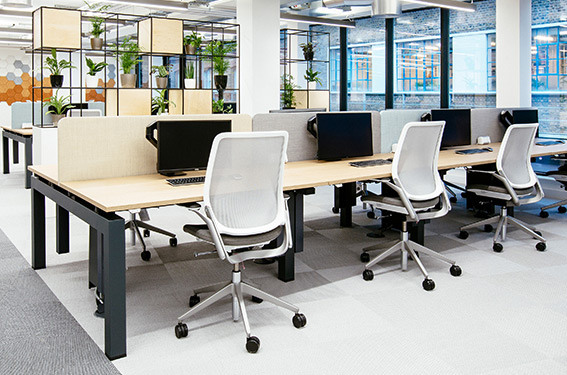 01
Client
For the past 21 years Linear Plastics has been a value and trusted supplier to Orangebox — a leading international supplier of quality office furniture.
With each new piece of furniture Orangebox relies upon its partner, Linear Plastics, to provide the best possible know-how and supply in plastics-based design-for-manufacture. Such know-how and partnership includes all matters of tooling design and manufacture (CAD and CAM based), injection moulding, assembly, quality assurance, and materials know-how, including matters of recycling and ecology, product stewardship and end-of-life.
All of these competences and services are carried out at the South Wales plant of Linear Plastics — just a few minutes away from Orangebox Head Office and Manufacturing at Parc Nantgarw, Cardiff, Wales.


02
Challenge
When the recent opportunity arose to help design and manufacture Orangebox's prestigious new office task chair — EVA — Linear Plastics did not dissappoint.
Orangebox describes the EVA creation as 'responsible, innovative….beautiful' and as 'the most efficient combination of materials and design thinking we've ever put into a task chair.'
The design-for-manufacture and industrial design from Linear Plastics, and the subsequent mould-making and production at the company played no small part in the team work that succeeded in creating EVA.

Hundreds of mouldings were required from Linear for the EVA project, including variants of colour. Slight variants in chair function — with or without a headrest for example — also necessitated the design, production and scheduling of further mouldings.
For example, the EVA Back Frame assembly alone required the design and moudling of some nine components — back frame; headrest outer; accessory fixing moulding; screws, brackets, corner caps and many more.
The objectives for Linear Plastics, therefore, were not only to offer the best possible design-for-manufacture services but to also schedule and execute the manufacturing itself in as timely and efficient a manner as possible.
Just in Time requirements, a plethora of new EVA tooling in all shapes and sizes and a heavy injection moulding requirement necessitated a wholesale re-ordering of the Linear Plastics organisation and shop floor.
Linear anticipated and was ready for such a demand, having relocated its business to the Treforest Industrial Estate some 18 months earlier. All EVA's design and manufacturing services were supplied from this purpose built 52,000 sq ft facility.
The EVA project's key objectives were met by the 120 strong Linear Plastics workforce under the leadership of Gareth Bassett, owner and MD, and Andrew Harrison, General Manager.
In terms of aesthetics, form and function, Linear Plastics is proud to have partnered with Orangebox, helping the latter create EVA — 'the most efficient combination of materials and design thinking we've ever put into a task chair.'
Linear believes that not many enterprises would be equal to the task of supporting the EVA project from start to finish, involving a multitude of competences along the way and including.

03
Approach
Linear Plastics closely followed Orangebox directives — to create and manufacture the best possible combination of materials, design and environmental thinking in the service of a beautiful new 'task chair' — EVA — all to a tight schedule and within time and budget.
Linear Plastics committed to deliver the best available design-for-manufacture for Orangebox and the best possible services in materials selection for the new chair.
Once these technical issues had been settled Linear Plastics then arranged the best possible execution of the EVA manufacturing plan via its in-house toolmaking facilities, injection moulding factory and product assembly facilities.
Linear also invested heavily in staff, software and manufacturing equipment in order to achieve failsafe outcomes for the project. 4 seats of SolidWorks CAD software were at the project's disposal as were 3 seats of EdgeCam software and also 1 seat of Moldflow (SolidWorks plastics)
In addition, extensive investment at Linear in CNC technology (Hurco suites) and EDM erosion were available to the EVA project.
Linear's decision to purchase a large Wittmann Battenfeld MacroPower 1000 tonne injection moulding machine (IMM) was key to the effect design and manufacture of the EVA project's larger mouldings — seats and backs for example. The decision to also purchase a Wittmann Battenfeld SmartPower 350 tonne Injection Moulding Machine was also integral in producing the smaller EVA chair parts in highly specified engineering materials to tight material tolerances and effective product cycle times.
An iterative design-for-manufacture process — in testing certain structures, designs, and materials — came fully into play once the EVA project was fully underway. Some ideas — such as the chair's arm shuttle — needed some rethinking and revision mid-way through the project schedule. Some chair components were asked to play a fuller, more load-bearing part than was previously envisaged and therefore needed to be rescoped and engineering accordingly.